Grill Giveaway at Your Jackson MS Area Dealer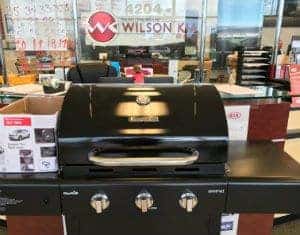 Everybody loves the rush of winning. The adrenaline starts pumping, the crowd goes wild, and the hard work pays off. While a raffle doesn't necessarily involve extreme dedication and a wild crowd, it sure does bring tons of excitement. At Wilson KIA, shoppers can enter for a chance to win a brand new gas grill! Simply fill out the form with your name and contact information, and you could walk away with a grill just in time for the 4th of July!
Your Jackson MS area KIA dealership strives to bring happiness and enjoyment to the community. By giving our visitors spectacular service and quality vehicles, we ensure a incredible car-buying experience. Although top-notch service and cars are great, we truly are dedicated to making our community the best it can possibly be. This grill giveaway, along with many other of our contests and events, prove that we are passionate about where we are, and what makes us special.
That Grillin' Feelin'
The summer is made for friends, family, and food. What's better than having a brand new gas grill at the start of the summer? This high-powered grill can grill up some burgers, hot dogs, and whatever else you'd like, all while everyone has a great time. Riding around the Jackson MS area in a KIA is always a great way to spend your afternoon, and grilling a nice dinner is the best way to spend the night.
To learn more about our grill giveaway, be sure to contact Wilson KIA by calling us at (888) 379-0815.