The 2018 KIA Stinger Makes an Impact
It's always difficult to find the balance between a family sedan and sports car, but not for much longer. With the 2018 KIA Stinger on its way, Jackson MS area KIA shoppers can soon get a chance to experience what a five-door sports car feels like. While this new model has yet to be released to stores, our team wanted to tell shoppers what to expect from this beauty.
Housing an available twin-turbo V6 engine which offers over 360-horsepower, this high-performing sedan feels like a premium sports car. There's no surprise each turn is as smooth as can be thanks to the eight-speed automatic transmission, as well as the 114.4-inch wheelbase. With geniuses like Peter Schreyer and Albert Bierman working on this 2018 model, the sky's the limit.
The 2018 KIA Stinger Offers Jackson MS Area Shoppers Excitement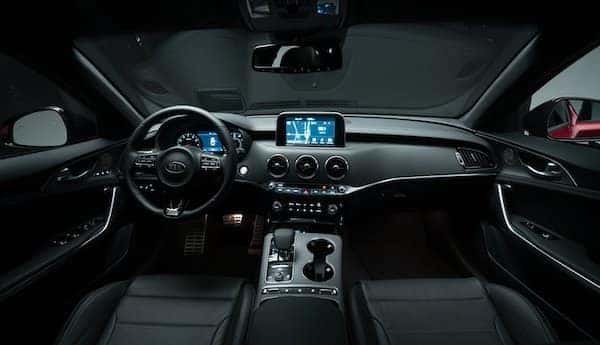 "With Stinger, we will be able to tell a performance story," Michael Sprague, executive vice president and chief operating officer of Kia, said. "With Peter doing the design and Albert doing the driving dynamics, I think that this vehicle finally makes a pivot for us. The initial feedback from Detroit, Chicago and other auto shows tells us people love this car. People can't wait for this car."
As if driving couldn't get more fun, drivers can roll down the windows and enjoy their favorite songs with help from the available 15-speaker Harman/Kardon audio system. This feature, along with the standard seven-inch touchscreen, helps motorists stay connected with ease throughout their journey. The 19-inch wheels, reactive steering, and Michelin Pilot Sport 4 tires really gives adrenaline junkies the rush they crave, as high-performance never felt so good. Speaking of feeling good, shoppers near Jackson MS can save a bunch of money on their next new ride with help from your KIA finance center. When it is time to get behind the wheel of the 2018 Stinger, our team will work to help give shoppers a quality vehicle for a quality price.
To learn more about the 2018 KIA Stinger and how you can experience such a vehicle when it is released, contact Wilson KIA by calling us at (888) 379-0815.