Proper Tire Care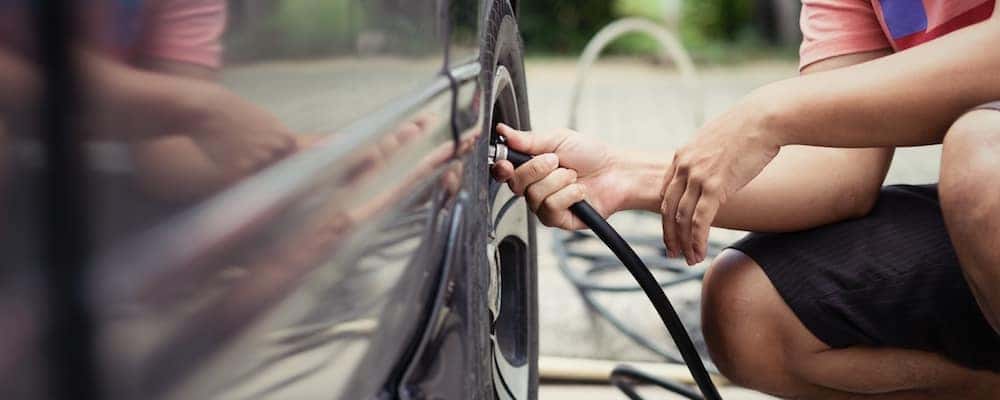 Though tire care may not always be your first concern, giving them proper care and attention can make for a better, much safer drive around Brandon. Make tire care part of your regular maintenance routine and you'll save yourself money and time down the road. Follow are tire care tips here at Wilson KIA and you're on the right path to better performance and safety.
Basic Tire Care Maintenance
When to Replace Tires: Checking your tire tread is the simplest way to determine when tires need replacement. Insert a quarter into the inner, central, and outer treads. If you can see the top of George Washington's head, it's a good idea to start the search for new tires.
Check for Damage: Major signs of tire damage include uneven wear, bubbling, and tearing. Don't delay on getting this taken care of. If there is substantial damage, use your spare while you find a replacement tire. Uneven wear can also signal that your wheels are out of alignment.
Check Your Tire Pressure Regularly: For better fuel economy, handling, and even wear, make sure all four tires are properly inflated. Check tire pressure levels with a gauge, or take advantage of your TPMS, and fill them to your vehicle's specification. Keep in mind cold weather can affect tire pressure levels, and that your spare can also set off your tire pressure warning light on newer models.
Don't Overload Your Cargo Bay: Don't take your vehicle's maximum load lightly. Overbearing your car can lead to sudden destruction of your tires. Read your owner's manual for exact specifications.
Rotate Your Tires: Regular tire rotation is an essential part of tire care. Based on whether your vehicle is front-wheel drive, rear-wheel drive, or AWD, your rotation pattern will change. Tires do not wear evenly, so rotation is key to keeping them all in prime condition for as long as possible.
When to Rotate Your Tires
The general baseline for tire rotations is between 6,000 to 8,000 miles, or once every six months. Tire rotations can be performed at home, but you can always come to your local Kia service center at Wilson KIA for tire rotations. Uneven wear can be a sign that you need a tire rotation. Another issue that might be causing uneven wear is misalignment, so it's a good idea to have your wheel properly aligned when you visit our service center.
Consider Snow Tires
Although modern vehicles typically come equipped with all-season tires, specialized winter tires offer superior performance and handling in snow, ice, and slush. Only about 20% of U.S. drivers use snow tires, and some places in the U.S. even require them. We recommend our customers use snow tires whenever possible during the winter seasons. You can do your part to make the roads around Ridgeland and Madison a little safer in inclement weather by preparing your vehicle for the worst.
Visit the Wilson KIA Tire Center!
The Wilson KIA Tire Repair and Service Center is proud to serve drivers from Flowood, Jackson, and beyond. If you're located nearby, there's no better place to go for proper tire care! You can have a certified technician inspect your tires, purchase a new set, or have any other service performed with us. If you have any questions, please feel free to contact us today!
More From Wilson KIA
The 2024 Kia Sportage is a fusion of robust performance, advanced features, and elegant design. This subcompact SUV ensures an excellent driving experience and offers leading cargo space and rear-seat legroom. Explore the unique traits of each 2024 Kia Sportage trim and redefine your driving experience in Jackson and Brandon. Explore all the Kia…

Experience the perfect blend of efficiency and style as you navigate the lively streets of Jackson in the 2024 Kia Forte. This sedan sets new standards for fuel economy and is celebrated for its exceptional gas mileage, reaching an impressive 41 MPG. Whether you're casually cruising through city avenues or embarking on a highway…

The Kia SUV that Jackson drivers trust year after year is the Kia Sportage. Why does the Sportage endure as a popular favorite for many drivers? The Kia Sportage interior is one of the top reasons! The blend of cargo space, legroom, and state-of-the-art features makes it an irresistible vehicle. The 2024 model year…